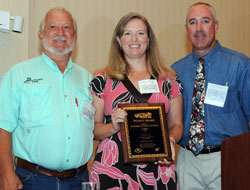 Leslie Wagner, Executive Director, Southern Peanut Growers, was presented with this year's Valor Award. The award was presented by John Altom, Valent.
I spoke with Leslie prior to the award and you can listen to our conversation below. So congrats to Leslie because she's also celebrating the 30th anniversary of Southern Peanut Growers. In fact, during registration yesterday there was anniversary cake to celebrate with. You can see the cutting of the cake below.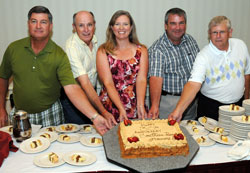 Southern Peanut Growers used to be the Peanut Advisory Board but changed its name last year. Leslie says that SPG has had a great couple of years doing promotion and publicity. She is really excited that peanuts and peanut butter are mentioned as healthy foods in the new dietary guidelines that were published recently.
Listen to my interview with Leslie here:
Leslie Wagner Interview (MP3)
[youtube=http://www.youtube.com/watch?v=CV45aW8hmp8]