Southern Peanut Growers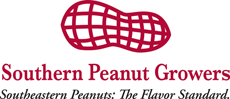 Established in 1980, as the Peanut Advisory Board, Southern Peanut Growers was formed to educate American consumers about the U.S. peanut industry and its products. Southern Peanut Growers changed its name in 2009 to more accurately reflect the farmers it represents.
Peanutbutterlovers.com is published by Southern Peanut Growers, a non-profit trade association which receives funds through a self-assessed checkoff made by peanut farmers in Alabama, Florida, Georgia and Mississippi. These states grow approximately 65% of the U.S. peanut crop.
If you have any comments or questions, please email Southern Peanut Growers at lpwagner@comcast.net or send mail to:
Southern Peanut Growers
1025 Sugar Pike Way
Canton, GA 30115